Tutorial 01-Creating a Mod
From Original War Support Wiki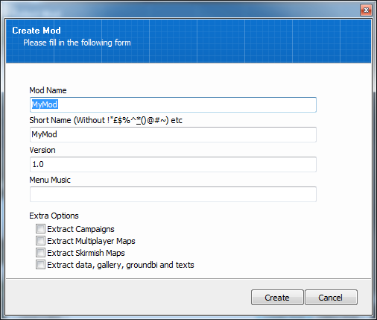 To create a mod you need to run the editor. You can run it from the launcher by clicking on "Modding Tools" and then on "Map Editor". You can also manually run it by double clicking on ow_editor.exe from your Original War directory. When you first run the editor you will be presented by a screen to select or create a mod. Click on the Create Mod button. Next you will see several boxes to fill in.

"Mod Name" is what will be displayed in the mod lists. "Short Name" is the name of the mods directory and can not contain any special characters as a result. The Extra Options when selected will extract specific files from the game and place them in your mods directory. Note that if you select some of the Extra Options that it may take some time to create the mod.

Once you have entered your mods information click on Create and the editor will set it all up.